Cable Tarp for Open Top Wood Chip, Shavings, Saw Dust Trailers 7.5oz Closed Mesh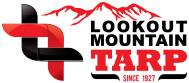 Made of 7.5oz black polypropylene closed mesh
Hemmed edges include 2" polypro reinforcement webbing
#2 brass grommets are punched into the hem at front and rear of tarp
D-rings are sewn into hem no further apart than every 24"
Pull strap is installed down the center

Description
Cable tarps are commonly used to enclose the open top of trailers that haul wood chips, wood shavings, saw dust, or bark. This style of trailer has two cables installed that span the length of the trailer. These cables are used to secure the tarp as well as provide a guide to quickly open the trailer for loading. Chip trailers normally have a front mounted ladder or cat walk the operator will climb to open the top. The tarp is normally bolted to the front of the trailer through a row of grommets and a pull strap is used to pull it from back to front.
We will build your replacement cable tarp any way you want it, but our standard cable tarp includes grommets on the front/rear, D-rings on the sides, and a pull strap down the center. The front of the tarp will be hemmed to match the width and shape of trailer. The width of the tarp will be set at the distance between the cables and the tarp length will match the trailer's length. Many drivers choose to add a rear tail flap which will be strapped with bungee cords before driving away. This flap usually hangs down 18" and tapers to 9" narrower than the trailer.
The 7.5oz closed mesh fabric comes a roll wide enough the tarp can be assembled in a seamless design plus it is 95% solid and it will contain finer particles like saw dust that a traditional cable tarp will not. In addition it has a slick finish that will better deflect debris if being loaded from the back of the trailer. The outer edge of the tarp is hemmed as a heavy duty 2" polypro webbing is installed for reinforcement. Just like our other tarps we sew a double lock stitch with polyester thread that has high break strength and has proven to be very rot resistant. D-rings are installed facing outward, sandwiched between the hem and webbing, and are triple stitched for extra strength. The center pull strap is one long piece of webbing that is attached to the topside of the tarp about every 28" providing loops the operator can easily grab to open the trailer top.